People appreciate practical gifts for the simple reason that they could use them on a daily basis to aid their lifestyle and simplify certain tasks. Bottle openers are among the best gifts you can give to someone on a special occasion, like your wedding day. They make wonderful wedding favours that can be customised with your initials, symbol, a special message, or your wedding date. Guests will appreciate your bottle opener souvenir and will be more likely to keep and use it. One of the popular designs in bottle openers is the flip flop or thong slippers, which are perfect for beach-themed weddings and couples who wish to express their easy-going and laid-back attitudes.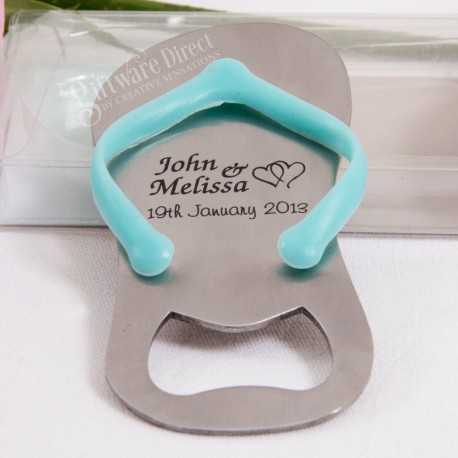 Flip flop bottle openers are excellent gifts on your special day. They can be custom engraved with any design of your choosing to make them more memorable and suitable as souvenirs. Personalised engraved flip flop bottle openers are customised using state of the art laser engraving methods to produce a clean and seamless design that will not fade easily over time. Stainless steel is the best material for this type of bottle opener, and the thong is made of rubber. Reputable suppliers can provide a matching beach-themed box to make your gift more presentable. Some suppliers ship your orders for free when they reach a certain amount or provide a reasonably priced flat rate to let you save money.
Look for a reputable supplier of wedding favours online so you can purchase high quality custom flip flop bottle openers. The best suppliers only sell premium souvenirs that can add a more personalised touch to your wedding bomboniere. Buy a flip flop bottle opener wedding souvenir from a supplier that has its manufacturing facility. This way, the supplier can provide cost-effective personalised laser engraving services without having to outsource the job.